Date & Time: Saturday February 15, 9:00 PM
Location: United Center, Chicago, IL
TV Channel: TNT
In what shapes up to be an entertaining All-Star Weekend, expect to see fireworks in these classic events.
3-Point Shootout Preview
The 34th annual 3-point shootout has a new twist this season, thanks to the new MTN DEW Zone. This zone includes two additional shots between the wing and the top of the key, and includes a green ball. This shot is taken 6 feet behind the 3-point line, and is worth 3 points. This new addition has raised the maximum score from 34 to 40, giving players a huge advantage if they hit their MTN DEW Zone shots.
This year's competition includes 8 participants, including the reigning champion Joe Harris of the Brooklyn Nets. Here is the complete list with their odds next to them:
Davis Bertans, Washington (+550)
Devonte' Graham, Charlotte (+900)
Joe Harris, Brooklyn (+475)
Buddy Hield, Sacramento (+650)
Zach LaVine, Chicago (+900)
Devin Booker (injury-replacement), Portland (+TBD)
Duncan Robinson, Miami (+550)
Trae Young, Atlanta (+500)
At first glance, it's not the most star-studded field. That doesn't mean that this group of players can't shoot the lights out though. Joe Harris is looking to repeat as Champion, and while he isn't shooting as well as he did last season, he is still sporting a cool 40.8% from three. Harris is currently the betting favorite to repeat as Champion.
Digging deeper, Trae Young has the second friendliest odds at +500. If you've ever seen Young play, you know he's a fireball, and can shoot from any spot on the court. If there's anyone that should be expected to hit the 2 MTN DEW Zone shots, it's Young, as he consistently pulls up from 30+ feet each game. Young is not my pick to win, but he's on my short list.
An interesting development took place after Damian Lillard injured his groin in Wednesday's action. He pulled out of the 3-point contest, and was replaced by 2018 winner, Devin Booker. Booker is not having the best season from distance, shooting only 35.8%, but he won the whole thing in 2018, showing that the big stage isn't too bright for him.
Hometown player Zach LaVine, a member of the Chicago Bulls, will be shooting in his home arena. LaVine is having an incredible season, shooting 38.5% from three, and carrying an injured Bulls team to relevancy (kind of). He's the least likely winner of this according to the odds, and if you want to throw a flier, LaVine at +900 in front of his home crowd wouldn't be the worst thing you could do.
And lastly, my favorite, DeVonte' Graham. Graham is a relatively unknown name to the casual NBA fan, as just last season, he averaged just a bit about 4 PPG. He's burst onto the scene this season and is currently sporting an 18.1 point average, shooting 37.4% from deep.
As stated, Graham is my personal favorite for this event. Being a little-known player, he is coming into this with a chip on his shoulder, and is trying to show the casual fan just exactly who he is. With a huge performance in this game, his name will become recognized throughout the league, just like Joe Harris a season ago. Graham is also +900, making him a very lucrative winner. I've seen him get hot in a game before, now he just has to do it under the bright lights.
Slam-Dunk Contest Preview
The moment we've all been waiting for. Everybody loves the Slam-Dunk Contest. While it's not what it used to be, we're always in for show each season. Let's take a look at the participants:
Aaron Gordon, Orlando (+125)
Derrick Jones Jr., Miami (+150)
Pat Connaughton, Milwaukee (+425)
Dwight Howard, Lakers (+500)
Former Slam-Dunk Champion Dwight Howard is returning to the dunk contest for the first time since 2009. Howard competed in 3-straight events before his career went sideways, winning in 2008. He's had some memorable moments, including his "Superman" dunk to secure his victory. As he has gotten his career back on track, Howard is looking to make his mark on the event once more, and is currently the least likely to win with odds set at +500.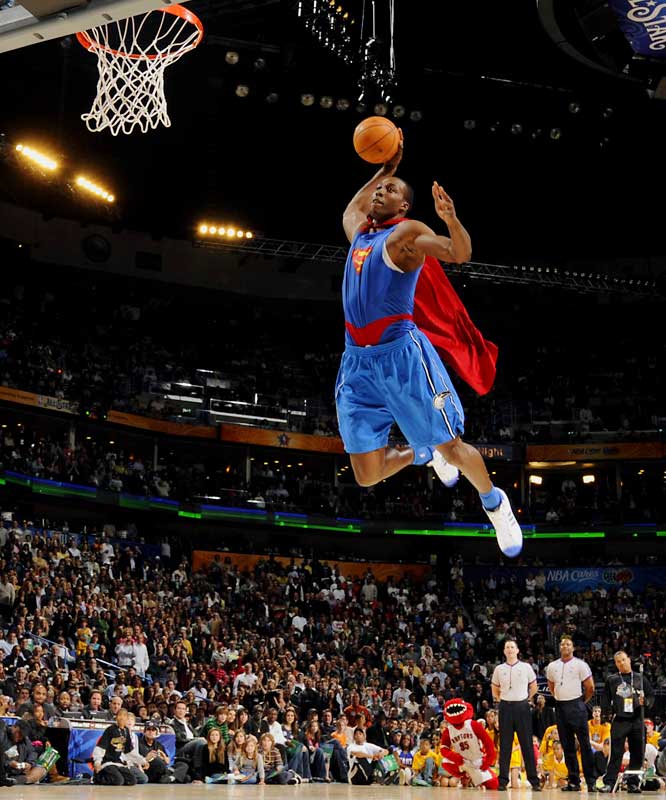 A name not many are familiar with, Bucks Pat Connaughton can simply fly. A two-sport athlete in college, Connaughton has always been one of the most athletic people on the court at all times. Given the nature of Milwaukee's roster, he only plays around 18 minutes a game, but he makes the most of his opportunities.
Just like Graham, Connaughton will be looking to make a name for himself under the bright lights. He currently is +425 to win, as most aren't giving him a chance. I'm not saying it's impossible he wins, but I'm not taking Pat to win this contest.
Next up is Aaron Gordon of the Orlando Magic. Gordon has always been a high-flyer, and he came in 2nd place in one of the best dunk contests of all time in 2016. He can dunk from every angle, and he has the hangtime to bring out the tricks. He's the betting favorite for a reason, but again, I'm not taking Gordon to win this for one reason.
That reason is Derrick Jones Jr. of the Miami Heat. Jones puts people on posters. He has a vertical leap unmatched by most people in this league, and the wingspan to dunk from almost anywhere. He's has the second best odds for this one at +150, but I believe he should be the favorite.
Given Jones reputation around the league, everybody knows he's a dunker. I believe that will give him a leg up on the competition, as the judges will be expecting greatness. Once Jones lands a couple dunks, the crowd will be roaring to see more. I expect to see some dunks we've never seen before thanks to Derrick Jones Jr., and for that reason, he's my betting favorite for the 2020 NBA Dunk Contest.